VIPCOAT innovation approach is based on the Quadruple Helix Innovation Model. Four development stakeholders (industry: SMEs and LEs, academia: European universities and research institutes, (local) government, and civil society: media, users, agencies, and culture) will drive the innovation process in a more effective business decision, advanced knowledge creation, diffusion and use the project achievements in design and manufacturing of new protective coatings.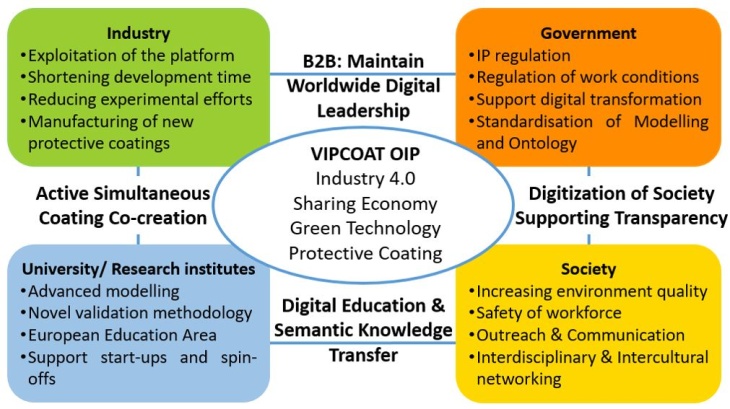 Quadruple Helix Innovation Model at VIPCOAT
In particular, the Industry will continuously adopt the open platform to create and maintain ecosystem innovation in the field of active protective coating manufacturing and operation. Companies will provide novel coating systems utilizing modelling solutions, create new market for novel green technology, build digital twins as well as develop interdisciplinary cooperation (both SMEs and LEs) and joint R&D activities between coating supply chain. Due to VIPCOAT Open Innovation Platform (OIP) exploitation industrial users will reduce the experimental efforts, shorten development time, get smart (business) decision making support, create patents on new anti-corrosion protection and provide new software licenses.

The government's role will be developed and adjusted at the OIP from regulation control (IP regulations, regulation of coating components/ toxicity (REACH), regulation of work condition on coating manufacturing and applying) toward broad facilitation of open collaboration and co-creation of new active protective coating, initiation of national/regional projects on similar topic, standardization of domain specific ontology and new validation methodology, and support industry and society to adapt to digital transformation. A direct benefit for the government's role is the early information retrieval of information around envisioned innovations, which allow for earlier and enhanced policy making in the field of regulations and research program shaping. Thanks to the integration of the society, a broad endorsement of such research programs will be accomplished.

Universities and Research institutions will become proactively engaged in multiple areas from technology transfer to knowledge co-creation. VIPCOAT will provide the broad field for cooperation and co-development of advanced ML/AI data based and physics based modelling workflows for corrosion processes, inhibitors selection and protective coating behavior, semantic knowledge transfer technology and materials ontology, validation methodology, advanced characterisation techniques and multi-criteria-optimization. Cooperation through the innovation platform will assistant rapid creation of new education program, easy establishment of professional networking among European universities, research institutions and industrial stakeholders, and support start-ups and spin-offs. A similar reasoning applies to software based SMEs in this field.

Societies and Customers will start to form new concepts, business opportunities, and commercialization, resulting in a shared economy. Open community driven innovation environment of VIPCOAT OIP will promote climate protection due to decreasing corrosion inhibitors toxicity, European citizen health and life style improvement due to increasing environment quality; creating new job for European Market, involving social media to communication activity and building interdisciplinary and intercultural networking.

The VIPCOAT platform will provide an open innovation environment OIP for cooperation, co-creation and interrelation for stakeholders from all four helixes and will be constructed as a coherent and seamless system thanks to the implementation of an ontological representation of materials design challenges, optimization and manufacturing process as well as interoperability standards . This OIP is dedicated to innovative products in general and its full implementation, in particular it's open simulation platform (OSP).
VIPCOAT Open Simulation Platform (OIP): realization of innovations along value added chains in industry
The main scientific/technological concept of VIPCOAT project is based on the OSP for accelerated and more efficient design and selection of innovative protective coating systems. The development of modelling workflows and semantic knowledge transfer technology to create the interoperable OSP are the main components of the VIPCOAT OSP concept.
The specific industrial and scientific problem of the performance of effective anticorrosion protection based on corrosion inhibition in coating defects is the platform demonstration core which reflects the utilization of the OSP along value added chains in general.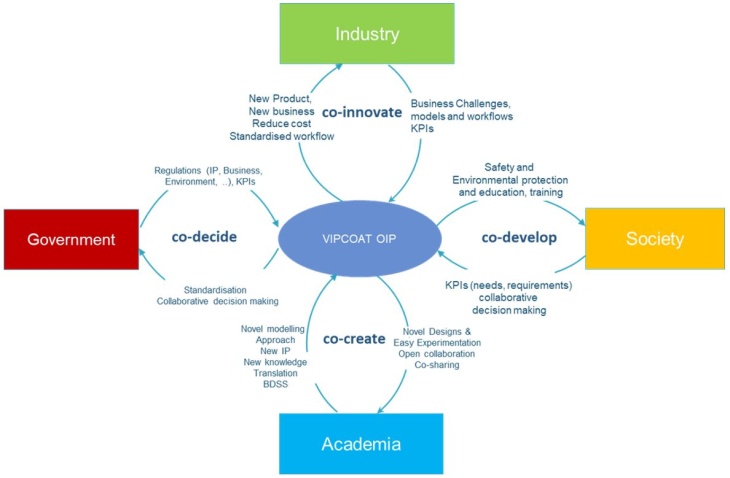 Fig.1: Transactions on the OIP
Figure 1 gives a detailed graphical explanation about transaction taking place on the OIP. Usually, innovations on products are generated in iterative cycles which, as a concept, all run through the VIPCOAT OIP and establish co-creation, co-development, co-decision and co-innovation among all stakeholders in the Quadruple Helix innovation model.
What is left is co-sharing of the value generated. Since all transactions on the OIP are traceable, the VIPCOAT project will establish concepts from serious gaming to implement in a win-win style and supported by shared-IP a method to co-share the value generated once innovations are released on the market. The rules of the game are transparent to all stakeholders and include a pro-active management system of shared IP and things like template NDAs endorsed by all stakeholder groups. This is in particular important for stakeholders from the society and RTO (academic) helix since they need to acquire trust in such a system in order to participate.
VIPCOAT will provide predictive modelling, optimization and validation workflows implemented its novel OSP, strongly based on the existing OSP MoDeNa. All functionalities will be assisted by a decision support system and made available for the industries involved in the chain for protective coatings using the concept of B2B2B relations in a Pareto chain.
Thus, the OSP supports in particular the business, the RTO-modeller and partially the governmental stakeholders in the Quadruple Helix innovation model. The development of the VIPCOAT OSP is performed, using an agile methodology, and is guided by four demonstrator Apps (see Fig. 2).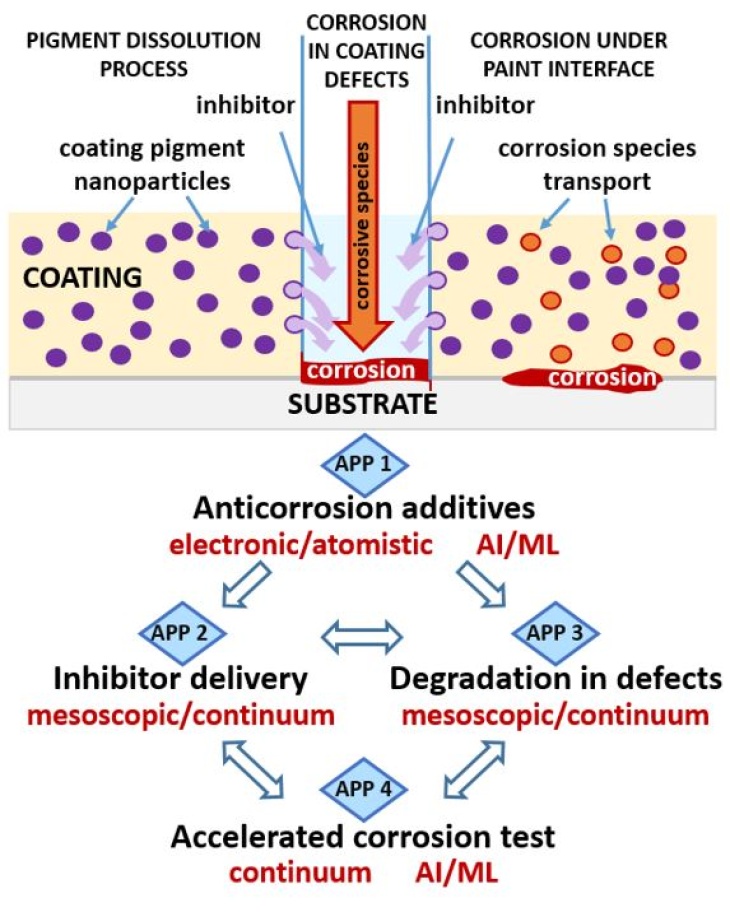 Fig.2: VIPCOAT Apps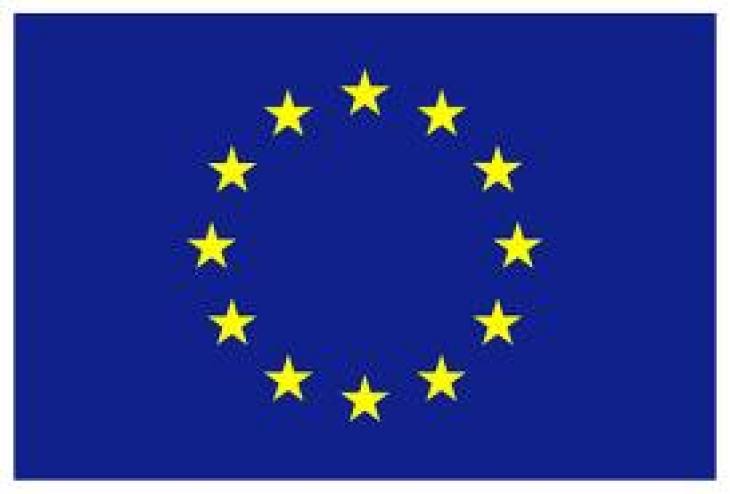 The VIPCOAT Project received funding from the European Union's Horizon 2020 research and innovation programme under Grant Agreement No 952903